With an acquisition and another planned, LS Networks has been busy over the last few months making strides for the delivery of high-quality internet, voice and data across the Pacific Northwest. With 2023 on the horizon, LS Networks is entering a new era, and to reflect our anticipation of what's to come, the company is unveiling a refreshed brand identity.
As with any organization, shifts to a brand, no matter how small or large, require input with a variety of stakeholders. For several months, the LS Networks team sought insight from team members on how to best create impact and alignment without losing recognition of a brand that communities across the Pacific Northwest have come to recognize. Our goal was that we could tell our story in a clear and compelling way while still communicating a modern approach to the technology we provide.
The Meaning Behind Our Gradient
The primary colors of green and blue reflect the roots of our organization. With a passion to meet the needs of rural businesses and individuals 16 years ago, we started LS Networks building infrastructure to support some of the most critical organizations in our community – hospitals, government and education. And today, we support them and so many more. We believe that everyone – even those living in rural towns – deserve reliable connectivity.
Today, our mission is to bridge the digital divide with fiber-based infrastructure that enables them to maintain and advance lifestyles that support family, growth, and sustainability. With this brand refresh, we have blended the green and blue colors together in a gradient to reflect the merging of services to support this mission. With the recent announcement of our planned acquisition of PocketiNet, a residential service provider, customers We want to ensure that anyone who comes in contact with our brand – even at a glance – immediately knows it is from LS Networks.
User-friendly Website
The LS Networks website (www.lsnetworks.net) has been updated to offer an easy-to-navigate environment. The interactive network map has been added to increase visibility for customers as well as to facilitate more open sales conversations.
Our website also has a resources page that provides modernized, customer-facing resources and support tools that are easy to access both internally and externally.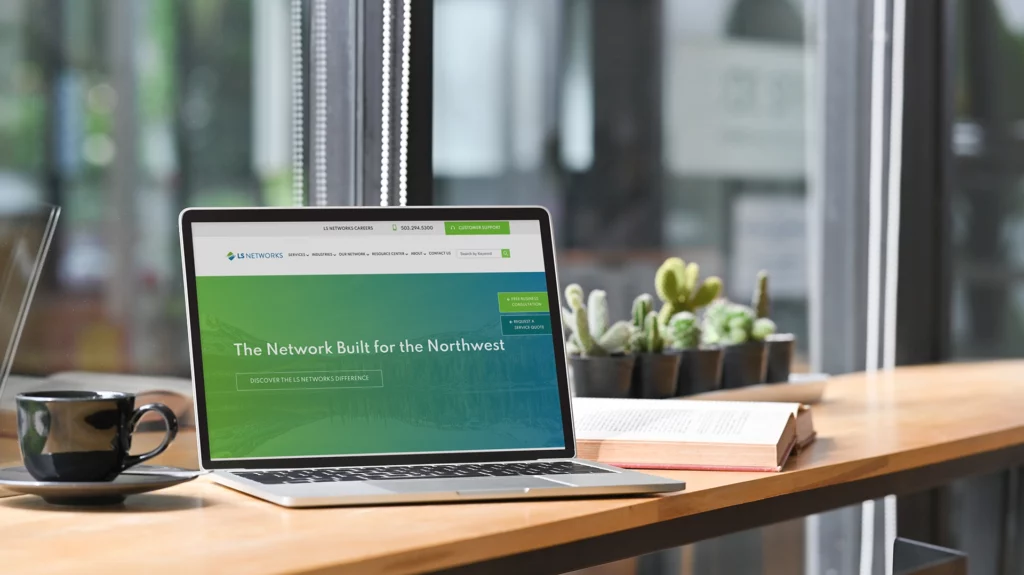 More Resources
We have created templates for our internal team and clients to access as needed for better, more clear communication. This includes everything from letterhead to e-newsletters, brochures and a new and improved PowerPoint template.
The goal is simplicity and flexibility so the standards are useful for all employees and business units. As our customers continue to require access to more bandwidth especially in rural and underserved communities, they need a trusted partner that can deliver high-capacity, low-latency fiber networks along with responsive, reliable customer support for their businesses and homes.
Fiber Moves Us Forward
Our new branding elements only compliment the strength of our brand that has been in place well over a decade. With the refresh, we are simply continuing on our trajectory of growth and innovation as we provide world-class fiber connectivity solutions to organizations – and soon homes – throughout our community.
For more information about our brand refresh, or to see more of our assets, contact our marketing team at marketing@lsnetworks.net.